Hendi Food Dryer Kitchen Line 7-trays 500W
Food dryer Hendi 7-tray (dehydrator / drying oven / fruit dryer)
Dehydrators have become extremely popular lately, especially in the raw food community, which is why Hendi has developed these high-quality, yet inexpensive, food dryers. The automatic fans ensure an even result over the entire, large surface of the 6 stainless steel trays (about 0.6 square meters!). The handy transparent door allows you to monitor the drying process and the drip mat on the bottom is excellent for making fruit leather.
What does a dehydrator / food dryer do?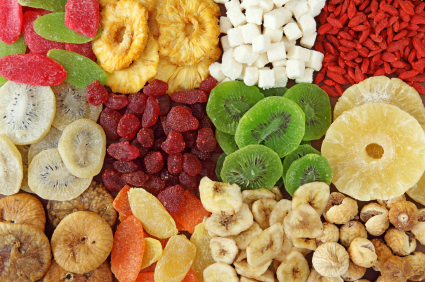 By drying food to at least about 2% of the original moisture content, bacteria no longer have "soil" to grow on, making it much longer to keep. In addition, the volume, but especially the weight, decreases enormously, making it popular among people who travel a lot (far) because almost all the calories of the food are preserved. Moreover, when dried at a temperature below 70 ° C, virtually all vitamins and minerals (nutrients) are preserved, making these devices very popular among raw foodies (people who appreciate the natural, healthy factor of unheated, or "raw" food).
For drying fruit, vegetables, herbs, meat, fish, etc. Automatic fans circulate the warm air for an even result. Equipped with 7 stainless steel trays of 375x300 mm, suitable for 500 grams of food each. Trays are evenly distributed and easy to remove and clean. Casing is made of polypropylene and double-walled, better temperature performance. Thanks to the transparent door, the drying process can be monitored. Comes with a transparent mat as a leak mat in the bottom of the device, or as a base for making fruit leather. Temperature adjustable from 35 ° to 70 ° C. Timer can be set from 30 minutes to 24 hours in 30 minute intervals.
Features of the Hendi 7-trays food dryer (drying oven / dehydrator)
Temperature adjustable from 35 ° to 70 ° C
Space between the drying layers: 40 mm
No timer (drying times vary greatly depending on product, thickness, humidity, etc.)
Suitable for drying fruits, vegetables, herbs, meat, fish, etc.
Automatic fans circulate the warm air for an even result
Equipped with 7 pieces of stainless steel trays of 330 x 305mm (approx. 0.6 square meters)
Suitable for approximately 500 grams of food per tray (3.5 kg in total)
Trays are evenly distributed and easy to remove and clean
Thanks to the transparent door, the drying process can be monitored
Comes with a transparent drip mat in the bottom of the device
Leak mat suitable as a surface for making fruit leather
Product type:
Food dryers (dehydrators)