SousVideKenner discount bundle 15 - Wartmann WM-1507 SV + 12 liters sous-vide reservoir (container)
Affordable sous-vide to experience or give as a gift?
Astonish your friends and family this year with your secret weapon: sous-vide. It is super easy to achieve perfect results as a chef. Also perfect as a gift!
We wish everyone to experience sous-vide and therefore the price of this bundle is unprecedentedly low! Perfect for yourself or as a gift. We give everyone the chance to get started with super cheap sous-vide, together with almost everything you need, including a sous-vide water container (reservoir) for around 10 servings. Then there may still be something left for nice accessories, such as a good recipe book for inspiration, a burner for professionally searing your meat (crust) or a smoker for a very special taste .
Tip! Cold smoking gives a delicious extra flavor to your dishes. It even works with ice! View Hendi Compact Deluxe smoke bundle with smoke machine, bell jar and 4 flavours of wood moth .
Recommended by sous-vide experts!
This affordable bundle has been specially put together by SousVidekenner and Wartmann so everyone can discover sous-vide cooking at home. The products are our best-selling sous-vide and vacuum products, and are all you need to get started right away. Invite your family and friends for an incredible dinner! They will all be surprised at the quality of your dishes. Promised!
Meat and vegetables have never tasted as good as with sous-vide. And it's still easy because sous-vide is stress-free and with our handy table you always know exactly what to do. In addition, we have added enough vacuüm bags so you can go all the way and plenty of experiments if needed.
Tips from SousvideKenner
Wartmann WM 1507-SV: most powerful sous-vide stick!
The renewed Wartmann WM-1507 SV sous-vide stick is the successor of the Wartmann WM-1506 SV. This sous-vide stick is a high-quality and robust immersion heater that is solidly durable and still has a particularly beautiful appearance. The glossy black, the silver accents, the stainless steel parts and curving shape give the device an elegant, luxurious appearance that will not be out of place in any kitchen! With a capacity of no less than 1300 Watt, it is the most powerful sous-vide stick that we know of. As a result, the Wartmann WM-1507 SV sous-vide stick effortlessly heats a water reservoir / container up to about 25 liters, and also keeps it easily at the right temperature. Read more on the product page.
Wartmann WM-1604: affordable vacuum machine for the home
Ease of use was central to the development of this vacuum device. That starts with the lid being closed: pressing the lid briefly into the corners is enough to lock it. Additional functions are available for vacuum packaging of delicate or moist food. You can easily set the type of food on the well-arranged control panel. You then automatically pack your food with one key. With this vacuum device you can also store food in vacuum boxes. The control button is located under the lid so that you can always easily reach it.
Need a good sous-vide reservoir?
Sousvidekenner recommends unbreakable transparent polycarbonate reservoirs for use with our sous-vide sticks. The material does not become soft due to the hot water and the outside does not become as hot as a steel (soup) pan. Moreover, it immediately serves as a sous-vide storage box.
Amaze friends with perfectly-seared meat?
The Hendi crème brûlée burner - refillable is ideal for an optimal searing of meat after sous-vide preparation. Forget that frying pan! With a temperature of up to 1300ºC you sear your sous-vide prepared meat product in an instant and you get a beautiful, wafer-thin, crispy brown layer (maillard reaction) without further cooking. Fast, easy and professional!
What is sous-vide cooking?
Read our extensive article here: https://www.sousvidekenner.nl/wat-is-sous-vide/
Sous-vide (French for "under vacuum") means that vacuum-packed food is heated by steam or in a water bath at relatively low, constant and precise temperature (approx. 0.1 ºC) for a longer period of time. By heating the food below boiling point, it slowly but surely cooks through, while meat, for example, remains perfectly tender and all juices, and therefore flavors, are preserved. In short, always cooked evenly and with maximum taste, and also super easy to use. Sous-vide is really for everyone!
Choose reservoir size:
Medium (12L)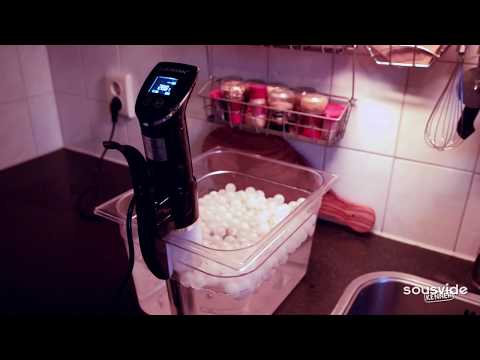 Wartmann WM-1507 SV sous-vide stick
Krachtigste sous-vide circulator (1300W)
De vernieuwde Wartmann WM-1507 SV sous-vide regelaar is de opvolger van de Wartmann WM-1506 SV. Deze sous-vide circulator is een kwalitatief hoogwaardige en robuuste dompelaar die tegen een stootje kan maar desondanks een bijzonder fraai uiterlijk heeft. Het glanzende zwart, de zilveren accenten, de roestvaststalen onderdelen en welvende vorm geven het apparaat een elegante, luxe uitstraling die in geen enkele keuken zal misstaan. Met een vermogen van maar liefst 1300 Watt is het de meest krachtige sous-vide circulator die wij kennen. Hierdoor warmt de Wartmann WM-1507 SV sous-vide regelaar een waterbad tot zo'n 25 liter moeiteloos snel op, en houdt deze bovendien makkelijk op temperatuur. Meer weten over sous-vide? Lees hier ons uitgebreide artikel.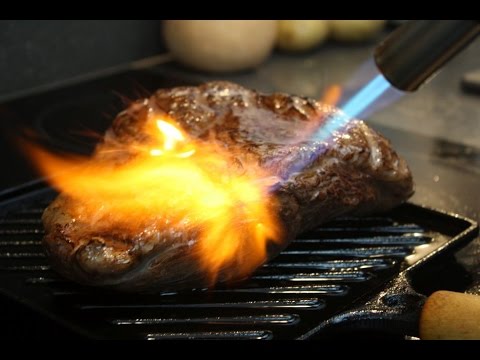 Sous-vide vlees werk je professioneel af met de Hendi crème brûlée brander
Sous-vide vacuum gegaarde Picanha werk je in een handomdraai professioneel af met onze Hendi brander voor dat prachtige dunne krokante laagje!
Direct bestellen: Hendi crème brûlée brander - navulbaar
Met een vlam die 1300ºC schroei je in een handomdraai je vlees af en krijg je een prachtig flinterdun krokant bruin laagje zonder het vlees verder te garen. Snel, eenvoudig en professioneel! De brander ligt fijn en stevig in de hand en produceert een grote vlam die wel 15 cm ver reikt en een groot oppervlakte kan bestrijken. Ideaal voor grote stukken vlees en wanneer je veel te doen hebt. De rode knop voor de grasregeling heeft een ingebouwde ontsteker, beveiliging en is nauwkeurig instelbaar.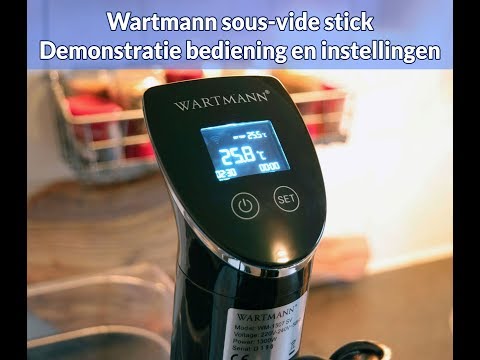 Wartmann WM-1507 SV sous-vide stick - bediening
De bediening van de nieuwe Wartmann WM-1507 SV sous-vide stick is heel simpel. In dit filmpje laten we exact zien hoe het werkt.

De Wartmann WM-1507 SV is een zéér hoge kwaliteit sous-vide stick die zich makkeljk kan meten met de besten. Met het hoogste vermogen op de markt is dit werkpaard onverwoestbaar en supersnel. Laat die Anova Precision Cooker WiFi (gimmick) maar liggen want de Wartmann WM-1507 biedt véél meer waar voor je geld!